Welcome 2020-21 New Angle Fellows!
Congratulations to this year's New Angle Fellows. The program launched on November 10th and these participants' work will be shown to the public in May 2021. Fellows' bios are listed below.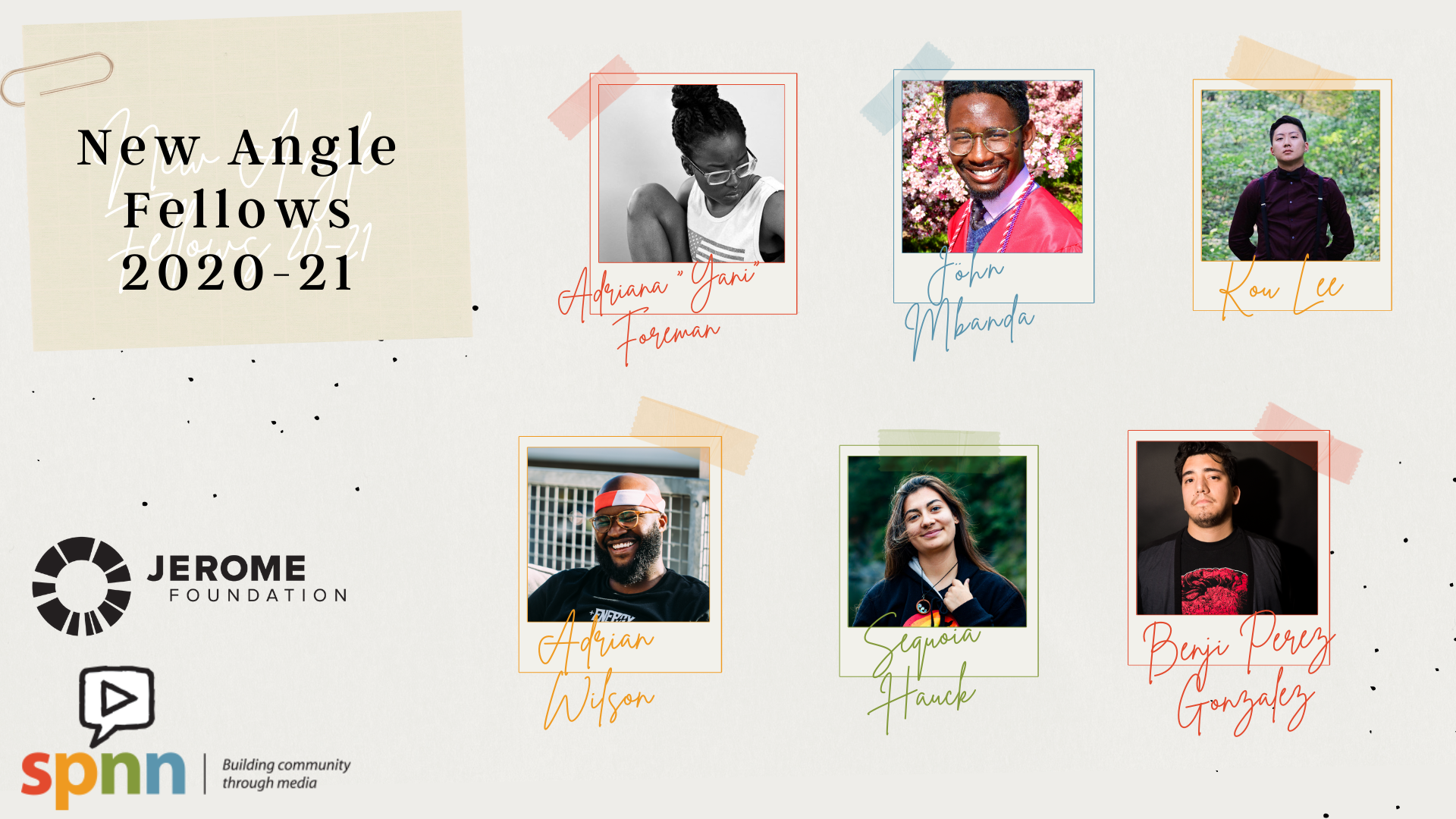 Fellows Bios
Adriana ' Yani ' Foreman is a writer, director and producer based out of Minneapolis who uses filmmaking and puppetry to bring her creations to life. Her work explores themes of identity, community, and healing through a Black queer female gaze with a Hip Hop aesthetic and play at its core. With influences as diverse as Claire Denis and John Singleton, she offers a refreshing and unique take on the black experience, crafted with a gracious and delicate hand.
Sequoia Hauck (Anishinaabe/Hupa) is a graduate from the University of Minnesota-Twin Cities with a B.A. in American Indian Studies. They are a multidisciplinary artist in the Twin Cities focused on creating theater, film, poetry, and performance art that decolonizes the process of art-making. They make art surrounding the narratives of continuation and resiliency among their communities. Sequoia enjoys dabbling in many aspects of art as a stage manager, house manager, producer, director, curator, playwright, and performer. They have worked on and offstage with organizations such as Aniccha Arts, Art Shanty Projects, Exposed Brick Theatre, Māoriland, An Opera Theatre (AOT), Pangea World Theater, Patrick's Cabaret, Poetry and Pie, The Southern Theater, and Turtle Theater Collective. They recently directed an one-act opera film with AOT who was asked to be a part of the nationwide opera project fronted by Decameron Opera Coalition called, "Tales from a Safe Distance" features nine World Premiere one-act operas. Their short film "Resiliency is Inherited'' premiered as a part of Pangea World Theater's Lake Street Story Circles in October 2020. Sequoia also has the honor of being one of eight playwrights chosen by Exposed Brick Theatre to create an original play responding to our current moment in time. A virtual reading will occur in early 2021. Sequoiahauck.com
Benji Perez Gonzalez is a first generation immigrant who is on an everlasting search for cultural and artistic identity. Once the need for self expression was unavoidable, Benji found a camera, and hasn't let go of it since. In his documentary work, Benji is a vessel for a powerful story that can hopefully help someone somewhere heal, process or understand. In his creative work, Benji tries to follow in the footsteps of the great Latinx filmmakers that came before him while at the same time trying to carve out his own path.
Kou Lee is a filmmaker residing in Minneapolis, Minnesota. He has filmed and produced videos surrounding weddings, music videos, short documentaries, Hip Hop events, and more. Being a first generation Hmong person born in the U.S. he didn't see many Hmong people represented in the media. As time went by, he found the passion to film and produce videos. He aims to use his passion for film to help provide a media outlet for many minorities whose voices have not been heard.
John Mbanda is an 18 year old Rwandan refugee filmmaker who uses his camera as his weapon. He has produced several shorts and has a special interest in sound design. His hope is to share stories that reflect his own experience as well as stories that go underrepresented, while tying in his interest in international affairs.
Adrian Wilson is a self taught Filmmaker, writer, and 3D Animator. Adrian was born in (Guyana) South America, moved to Orlando, FL, at age 16. He studied Computer science at the University of Florida but graduated at the end of the 2008 recession, finding difficulty in finding jobs, so he became a DJ. During this time, he met photographers who allowed him to explore the art and he immediately fell in love and my film career started. After 4+ years of filming club videos and music videos in Orlando and Miami, he moved to Chicago, then he moved to Minneapolis in 2014 to launch my own film company. Telling stories is the most beautiful form of art to Adrian, so he made it my focus to film and write stories that are impactful and timeless. So far he has filmed for and or worked with Lil Wayne, T.I, Fabolous, First Transit (Minneapolis), GTV Vodka, Power 95 Orlando, AMP One Miami, Hands On Twin Cities, element Boxing Gym, and more.

About NAF
New Angle Fellows is a 7-month fellowship that supports underrepresented and emerging documentary filmmakers who are creating their own work and hoping to get to the next step in their filmmaking journey. This cohort of six members will support one another and get the opportunity to learn skills and knowledge from more advanced filmmakers. Fellows also receive a $3000 stipend to support them in producing their documentary.
Eligibility
You are eligible for this fellowship if you meet the requirements below:
You are a resident of the Twin Cities Metro Area and are living here throughout the duration of the fellowship.

You are a member of a marginalized and underrepresented community: BIPOC, LGBTQ+, women or non-binary, disabled, etc.

You are 18+ years old and

NOT

enrolled in a higher education institution from Fall 2020-Spring 2021.

You are an emerging filmmaker. Emerging artists are defined as:




Artists who have an ongoing commitment to working in the media production, rather than engaging in it as a hobby, pastime or occasional pursuit.

Artists who at the time of the application have generated, completed and publicly presented/published documentary work.

Artists whose primary goal is to generate new documentaries, as opposed to remounting or re-interpreting existing works.

Artists who are in the early stages of their creative development. Artists who have a focused direction and goals, even while still developing their artistic "voice".

Artists who have yet to be substantially celebrated within their field, the media, funding circles or the public at large.
You must also have the capacity to meet the program requirements for the duration of the program. This includes:
Attend monthly sessions (dates will be determined soon)

Engage with other fellows in the cohort to support one another

Complete a 20-60 minute work-in-progress or completed documentary film to show in a public event in May 2021

Submit the film to air on SPNN's channel after the film has been completed and submitted at film festivals of the filmmaker's choosing
About the Application:

APPLICATIONS ARE CURRENTLY CLOSED
The application will reopen September 2021 for the 2021-22 year. The application includes three pieces:
The application

An artistic resume

A work sample (up to 5 minutes of material)
Doc U alum are highly encouraged to apply, but you must have created work beyond the Doc U program. If you are a Doc U alum who has not been able to produce work but would like to gain more experience, please contact Joua at lee.grande@spnn.org. We have a pilot program that may be a better fit for you.