Position Descriptions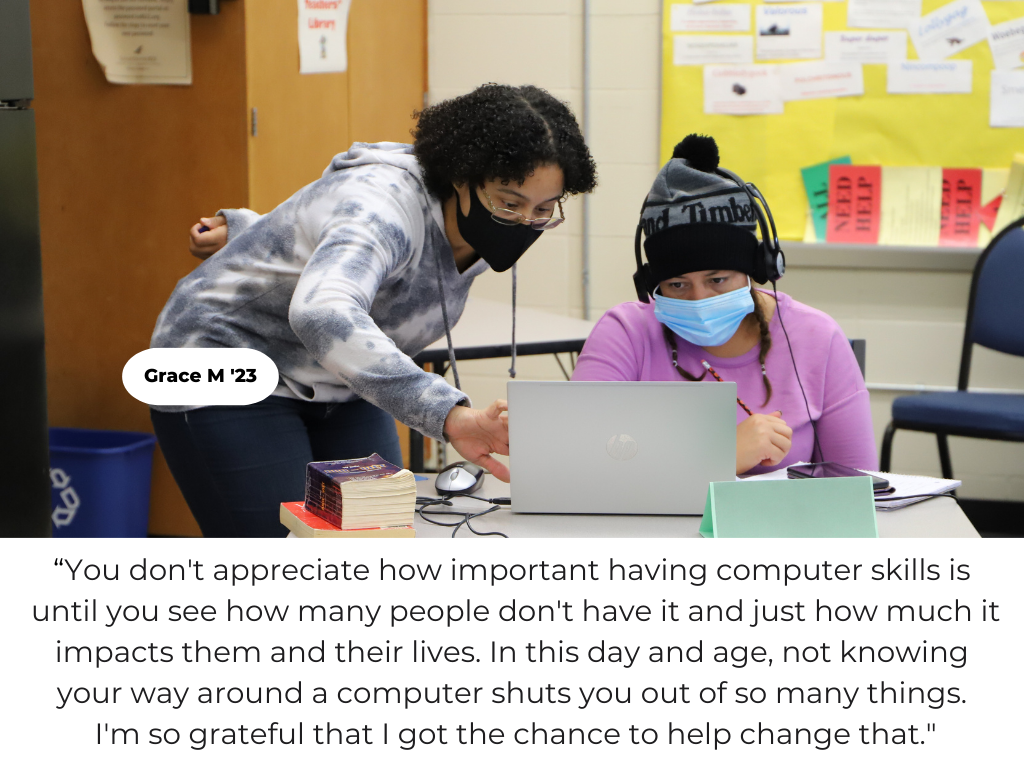 Position Overview:
The AmeriCorps Community Technology Empowerment Project (CTEP) works to bridge the "digital divide" in low-income BIPOC communities in Minneapolis and St. Paul. CTEP AmeriCorps members teach technology literacy skills to adults and youth, assisting them to obtain better paying jobs, and improving access to civic and social opportunities. CTEP Digital Literacy Instructors have the opportunity to research and develop their own curriculum while being guided by experienced supervisors. In addition CTEP AmeriCorps members receive professional on the job training on the knowledge, skills and abilities needed to complete their duties at site as well prepare them for their chosen careers after service.
Service Type
CTEP AmeriCorps is recruiting for Three-Quarter-Time (TQT) service starting January 1 and ending on August 31, 2024. TQT service requires 1200 minimum hours or approximately 37 hours per week, Monday through Friday, although some positions may require weekend or evening hours. Please go to our website at www.spnn.org/CTEP/position-descriptions for a list of available positions and specific requirements for that site.
Benefits
A Segal education award of $5,176.50 (upon successful completion)

A living allowance of up to $1,535 a month before taxes

Payment of federal student loan interest if you put your payments on hold during your year in CTEP (upon successful completion)

A head start on the Public Student Loan Forgiveness (PSLF) Program – potential to save thousands of dollars on loan repayment.

Paid health insurance

Qualification for state assistance programs such as food (up to $200/month); Transportation ($1 bus fares); and Energy assistance (save up to $300 over the winter months)

Access to the National Service Employment Network after service.
What You Get to Do:
As a CTEP member you will:
Teach topics such as how to use email, word processing software, Facebook and LinkedIn, how to navigate the internet, and digital storytelling. In addition, lead workforce readiness classes geared towards English language learners using interactive software.

Create programming and materials. We make each position as meaningful as possible with a blend of direct service and capacity building. You will have the opportunity to develop meaningful, sustainable projects that will make a lasting difference at your site and in your career!

Be a part of a cohort that annually certifies over 1,500 community members in technology literacy. Many of these folks find better paying jobs because of the certification they received.

Work with other CTEP members on a group civic engagement project in which you tackle an issue related to digital inclusion with outside community agencies.

Build relationships with community members and encourage people to reach personal and professional goals.
What We Need From You:
Post-secondary education preferred; minimum High school diploma /GED (or progress toward while serving)

Basic knowledge of using or programming a computer, smartphone skills, media making, software such as Microsoft Word or Google Docs

Experience with tutoring/teaching, volunteer management, public speaking highly desired

Demonstrated experience working with people from a variety of racial, cultural, and economic backgrounds

A Passion for service and making a difference in the lives of others

Bilingual in Somali, Oromo, Spanish, Hmong, Karen(ni) highly desired

Ability to serve until August 31, 2024

U.S. citizenship, naturalization, or permanent residency required

Be at least 17 years old at the time of enrollment



Click on the Google Map below to explore CTEP site locations.
Blue markers indicate open positions, and red markers indicate closed positions.
The green marker is the CTEP main office where first interviews are conducted if conducted in-person.
The AmeriCorps.gov site takes a longer time for changes to take affect, so a position may appear available on that website, but in reality is closed. The table below is updated weekly as positions are filled.
Click on the name of the organization in the table below to review the position.
| | | |
| --- | --- | --- |
| Positions Starting January 1, 2024 | Location | Availability |
| Adult Options in Education | 1001 Highway 7, Hopkins | Available |
| Avivo | 2438 27th Ave S, Minneapolis | Available |
| Guadalupe Alternative Programs High School | 381 E. Robie Street, Saint Paul | Available |
| Hired North Loop - MN Family Investment Program | 217 Fifth Avenue N, Minneapolis | Available |
| Hired North Loop - Career Pathways | 217 Fifth Avenue N, Minneapolis | Available |
| Hired Eastside - Youth | 800 Minnehaha Ave E, Saint Paul | Filled |
| Hired Eastside - Adult | 800 Minnehaha Ave E, Saint Paul | Available |
| Listen Up! Youth Radio (Youth Media) | 550 Vandalia, Saint Paul | Available |
| Literacy Minnesota | 700 Raymond Ave, Saint Paul | Available |
| Metro South Adult Basic Education | 2575 West 88th, Bloomington | Available |
| Harmony Learning Center (Maplewood) | 1961 County Rd C E, Maplewood | Filled |
| PCs for People | 1481 Marshall Ave, St Paul, MN 55104 | Filled |
| Ramsey County Library- Roseville (Adult) | 2180 Hamline, Roseville | Filled |
| Ramsey County Library- Roseville (Youth) | 2180 Hamline, Roseville | Filled |
| Ramsey County Library- Shoreview | 4560 North Victoria St, Shoreview | Filled |
| Saint Paul Neighborhood Network (Community Media) | 550 Vandalia, Saint Paul | Filled |
| University of Minnesota - Urban Research and Outreach Center | 2001 Plymouth Ave N, Minneapolis | Available |
Experiencing difficulties?
Refer to this AmeriCorps Applicant Guide for step-by-step application instructions.
Here is a brief video tutorial on how to search for open positions and submit your application through the AmeriCorps website: