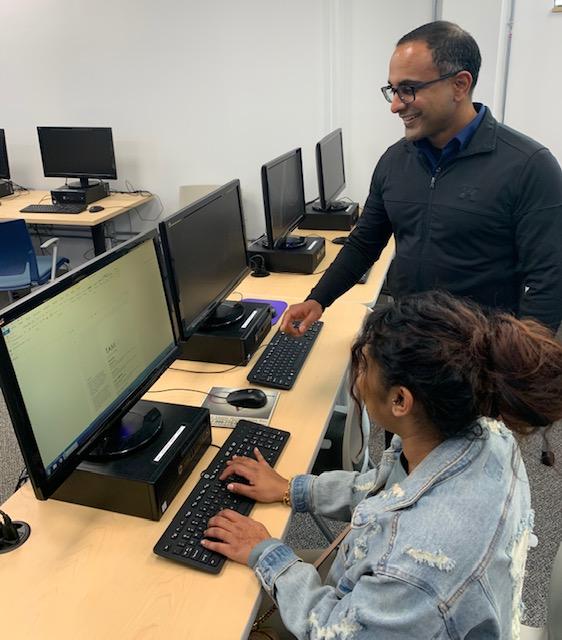 Hired-Youth
Partner Agency: HIRED
Location(s): 800 Minnehaha Ave E, St Paul, MN 55106
Site Supervisor: Rachel Grosskurth, Youth Program Director
CTEP Program Description
The AmeriCorps Community Technology Empowerment Project (CTEP) bridges the "digital divide" for new Immigrants and low-income communities in Minneapolis and St. Paul. CTEP is a program of Saint Paul Neighborhood Network (SPNN).
Site History and Mission
Since 1968, Hired has provided individualized employment and career services. We believe every person is one good job away from a stable and promising future. Through assessment, training, coaching and supportive services, we help people age 16+ to connect their dreams, skills, and talents with jobs that will sustain them and their families.
Hired specializes in supporting individuals whose employment opportunities have been shaped by historic and systemic inequities and situational barriers. We strive to provide coaching and skill-building opportunities at every step of an individual's journey while helping them stabilize by meeting their basic needs and navigating systems of support. Through these efforts, we believe we will ultimately enable them to provide for their families, advance in their career, and pursue their purpose.
Hired is a nonprofit organization that works with other organizations and across sectors for systems change. Our partners include 160+ nonprofit organizations and 60+ employers whose workforce gaps we help fill.
Our values are:
· Putting People First
· Going the Extra Mile
· Advancing Equity
· Working Together
The Youth Program CTEP Member will focus on serving youth, ages 16-24. This Member will provide services including digital literacy, advanced Microsoft Office, career exploration, job search, job club, and career readiness workshops. All CTEP Members will build upon Hired's foundational efforts to provide effective hybrid virtual/in-person instruction for our participants. Hired utilizes Google Classroom as our consistent learning management software. These and other efforts will provide more avenues for participant engagement and help us better support the learning outcomes and ultimate career success of our participants.
Links:
Home page: www.hired.org
2021 Annual Report https://www.hired.org/2022-annual-report
Preferred Site Schedule for Member
The expected weekly schedule of this position will total approximately 35 hours per week throughout the duration of the year. Some flexibility with scheduling is possible.
In addition, members attend professional development days with their fellow CTEP members to enhance service-readiness skills, personal attributes at the service site, and citizenship skills. These Corps days take place twice a month on the 1st and 3rd Fridays from 9 AM to 4 PM, and these trainings are mandatory. Members also attend statewide AmeriCorps events, such as the Martin Luther King Day celebration, and/or serve on the statewide InterCorps Council.

Specific Site Responsibilities
Hired youth programming is offered one-on-one rather than as a cohort model, so mobility to our various sites is required. With a CTEP Member dedicated to youth, we can offer group employment activities that complement individual services. The Youth CTEP Member will have access to all main offices and co-location sites.

Member's Specific Programming Responsibilities
Specifically, the member will be responsible for leading digital literacy training at Hired's main offices and co-located sites for youth participants. The essential functions of the Member include outreach and recruitment, assessment, delivery of training, and classroom management. Further descriptions of these functions are provided below:
Outreach and Recruitment
Recruit youth participants from appropriate sources (referrals from counselors)
Participate in development of recruiting materials
Ensure eligibility of referred participants through formal and informal inquiry and screening
Assist with enrollment procedures
Assessment
Conduct appropriate assessments needed for youth programming
Administer appropriate assessment and screening tools per program requirements or guidelines
Delivery of Training
Create and facilitate opportunities for youth participants that will help to "bridge the digital divide"
Adapt teaching style/techniques to accommodate individual learning needs or situations.
Assist participants to define and achieve appropriate occupational goals
To fulfill the objective of this role, the Member will need the following skills and abilities:
Skill in written and oral communication
Ability to work effectively with others
Skill in teaching/coaching techniques
Efficient organizational and planning skills
Effective time management and ability to prioritize work
Ability and willingness to respond constructively to rapid change
Ability to lead by example and to mentor and guide others
Excellent presentation skills
Experience with Windows Operating system and Chrome with Google Suite/Apps understanding

Site Environment
With a CTEP Member dedicated to youth, we can offer one-on-one or small group employment activities. The Youth CTEP Member will have access to all main offices and co-location sites. Youth Programs has office spaces at our North Loop and East St. Paul locations, as well as several co-located sites throughout the Twin Cities Metro Area. Each office space has an open area for participant intake, small computer lab, and training rooms. The Member will have access to general office equipment, including telephones, personal computers, copiers, and fax machines.

How to Apply
Apply online at http://my.americorps.gov/ and click on "Apply to Serve". Be sure to search for the "Community Technology Empowerment Project" or "CTEP" when asked to indicate what program you would like to send your application to. Contact: ctepmn@spnn.org, 651.298.8919 for more information about CTEP Member requirements.
CTEP AmeriCorps values an equitable work environment and strongly encourages Black, Indigenous and people of color, speakers of many languages, disabled individuals, LGBTQIA+ identified, and people from other underrepresented communities to apply.
Reasonable accommodations will be made upon request.