Guadalupe Alternative Programs High School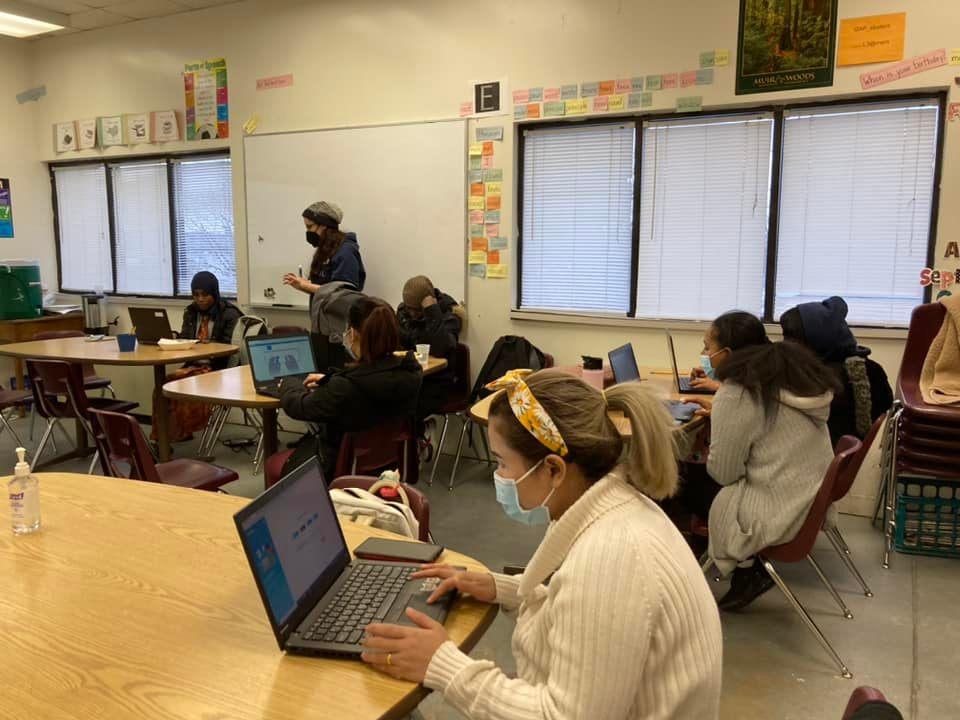 Partner Agency: Guadalupe Alternative Programs (GAP) High School, Change Inc.
Location(s): 381 E. Robie Street, St. Paul, 55107
Site Supervisor: Regina Edmisten
CTEP Program Description:
The AmeriCorps Community Technology Empowerment Project (CTEP) bridges the "digital divide" for new Immigrants and low-income communities in Minneapolis and St. Paul. Join AmeriCorps CTEP and help make the information age accessible to all. CTEP is a project of Saint Paul Neighborhood Network (SPNN).
Site History and Mission
Change Inc. utilizes the power of relationships and community to create educational, training and healing opportunities for children, youth, young adults and families so that they can achieve their highest ambition.
Guadalupe Alternative Programs, located on the West Side of Saint Paul, was founded in 1967 to provide an educational alternative for youth at-risk of school failure. The original Change Inc. was initiated in 1993 to provide supervision, training, consultation, and occasions for the inevitability of change, with a focus on issues of poverty and racism based primarily in the urban core of Minneapolis; this initiative was built on the founders' previous work in inner-city community building that started in the 1960's.
GAP's mission is to serve communities challenged by transition and poverty through education and enrichment opportunities, social and emotional support, and training that leads to employment.
The foundation of our approach is that relationships are the key to change. Change Inc.'s program activities, based on strong relationships and trust, holistically ensure our students are cognitively, socially, and emotionally equipped to succeed in school and life. We provide individualized education that attends to the social-emotional needs of students, including mental health services and basic needs resources such as meals, child care, and transportation. Because the challenges facing our students and their families are continually shifting, Change Inc. works to adapt and create programs that respond to the moving needs of our participants. Currently, our work is divided into three key programs: GAP School, the Community & School Collaborative (CSC), and the Change Institute.
Preferred Site Schedule for Member
8-4 M-Th, 8-3 F for the duration of the school year. Summer (especially August) can be more flexible but we do have a 6-week summer school program. In August, school is not in session and time at GAP will be focused more on special projects.
In addition, members attend professional development days with their fellow CTEP members to enhance service-readiness skills, personal attributes at the service site, and citizenship skills. These Corps days take place twice a month on the 1st and 3rd Fridays from 9 AM to 4 PM, and these trainings are mandatory. Members also attend statewide AmeriCorps events, such as the Martin Luther King Day celebration, and/or serve on the statewide InterCorps Council.
Member's Specific Programming Responsibilities
1) Teach or co-teach Digital Literacy classes using Northstar Digital Literacy program. as well as the communication and coordination pathways.
2) Implement typing.com throughout the pathways.
3) Create and facilitate volunteer opportunities for students that will help to "bridge the digital divide"
4) Be a member of a student advisory team, with responsibility to support student persistence towards graduation and career and college readiness for a sub-set of students. The CTEP member will also work on building and fostering strong relationships with students. The CTEP Member is invited and encouraged to join all GAP School activities and events and to participate in staff professional development and team building activities.
Site Environment
GAP is a 4 story accessible building located on the West Side of St. Paul. A bus stop is nearby. The CTEP member would have an office shared with other staff. They would have their own iPhone, computer, email address. Free breakfast and lunch is provided in the school cafeteria. The physical demands would be moderate but not significant. Teaching refugees and immigrants who have had significant trauma does require staff members to be centered, compassionate and curious. Emotionally, the CTEP member would need to be mature and caring. The intellectual demands require that the CTEP member be open to their own learning. The students will represent a range of abilities in terms of English, basic skills and knowledge of technology. The CTEP member will need to be curious about the needs of their students and have the flexibility to adjust based on that information.
How to Apply
Apply online at http://my.americorps.gov/ and click on "Apply to Serve". Be sure to search for the "Community Technology Empowerment Project" or "CTEP" when asked to indicate what program you would like to send your application to. Contact: ctepmn@spnn.org, 651.298.8919 for more information about CTEP Member requirements.
CTEP AmeriCorps values an equitable work environment and strongly encourages Black, Indigenous and People of Color, speakers of many languages, disabled individuals, LGBTQIA+ identified, and people from other underrepresented communities to apply.
Reasonable accommodations will be made upon request.