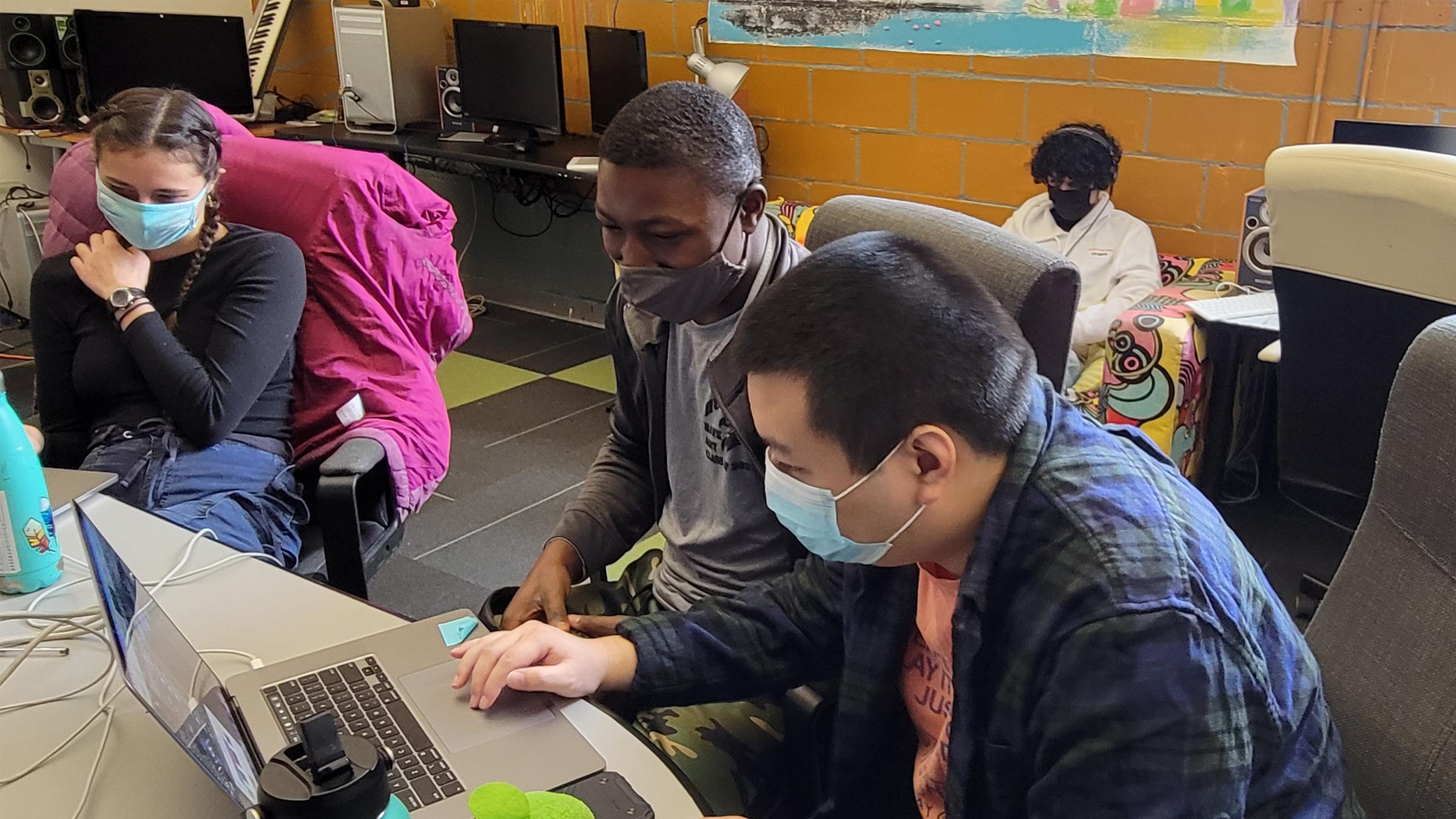 Partner Agency: Saint Paul Neighborhood Network
Location(s): 550 Vandalia Street, Suite 170, Saint Paul, Minnesota 55114
Name of Site Supervisor: Bonnie Schumacher, Associate Director
CTEP Program Description
The AmeriCorps Community Technology Empowerment Project (CTEP) bridges the "digital divide" for new Immigrants and low-income communities in Minneapolis and St. Paul. CTEP is a program of Saint Paul Neighborhood Network (SPNN).
Site History and Mission
Since 1985 SPNN has been the Cable Access Provider for the City of Saint Paul. Our mission is to increase civic engagement in Saint Paul by providing an avenue for free speech and media creation. We provide training, check out equipment, and have 4 Cable Access Channels available to the public.
Our Programs team works with youth and adults to learn media creation skills. We have basic classes on camera, editing, and studio. We have in-depth programs that teach documentary and productions skills, we host artist talks and one-off workshops. We have a youth production team that works with clients. Our media center is open 6-7 days a week for youth and adult members and program participants.
Preferred Site Schedule for Member
General work hours would be 1-9 Monday, Tuesday, Wednesday and one weekend day.
In addition, members attend professional development days with their fellow CTEP members to enhance service-readiness skills, personal attributes in the workplace, and citizenship skills. These Corps days take place twice a month on the 1st and 3rd Fridays from 9 AM to 4 PM, and these trainings are mandatory. Members also attend statewide AmeriCorps events, such as the Martin Luther King Day celebration, and/or serve on the statewide InterCorps Council.
Specific Site Responsibilities
1. The CTEP member will work with the team to create an outreach plan to recruit new organizations, adults, youth, interns and volunteers, specifically in underrepresented communities. Work with those communities to develop short term workshops and classes to build their skills in media.
2. The CTEP member will assist SPNN producer/members and youth in our media center during our open lab and drop in spaces. Manage, support, and mentor interns, volunteers, and youth workers in their media creation.
3. Depending on interest and skills the CTEP member will:
Lead/co-lead basic camera and editing classes for adults

Lead the Speaking of Youth and SPNN podcasts

Lead career development classes that include resume writing, interview skills, websites/reels to talk about their work, where to look for work and grants.

Host the drop in space once or twice per month. This is a place for members to learn more specifics about different topic ideas that are not covered in classes- advanced lighting techniques, storytelling, DIY video, etc.

Assist with Media Active productions
Unique Qualifications Sought
Previous experience with video or audio production and storytelling. Experience with working with youth or adults in a teaching or mentoring setting.
Site Environment
SPNN is located off 94 and University Avenue in the lower Saint Anthony neighborhood, also known as the Creative Enterprise Zone. Our programs take place on site in our youth media lab, media center and classroom spaces, and at various locations throughout Saint Paul, but in particular the Createch drop in spaces for teens in the Saint Paul Public Libraries. SPNN is a friendly, busy, and engaging place to work. There are many opportunities for learning and growth within the teams at SPNN. The CTEP Members will be using video production equipment, computers, and other media tools, and training youth and adults how to use these technologies.
How to Apply
Apply online at http://my.americorps.gov/ and click on "Apply to Serve". Be sure to search for the "Community Technology Empowerment Project" or "CTEP" when asked to indicate what program you would like to send your application to. Contact: Allison Williams, williams@spnn.org, 651-298-8918 for more information about CTEP Member requirements.
CTEP AmeriCorps values an equitable work environment and strongly encourages Black, Indigenous and people of color, speakers of many languages, disabled individuals, LGBTQIA+ identified, and people from other underrepresented communities to apply.
Reasonable accommodations will be made upon request.