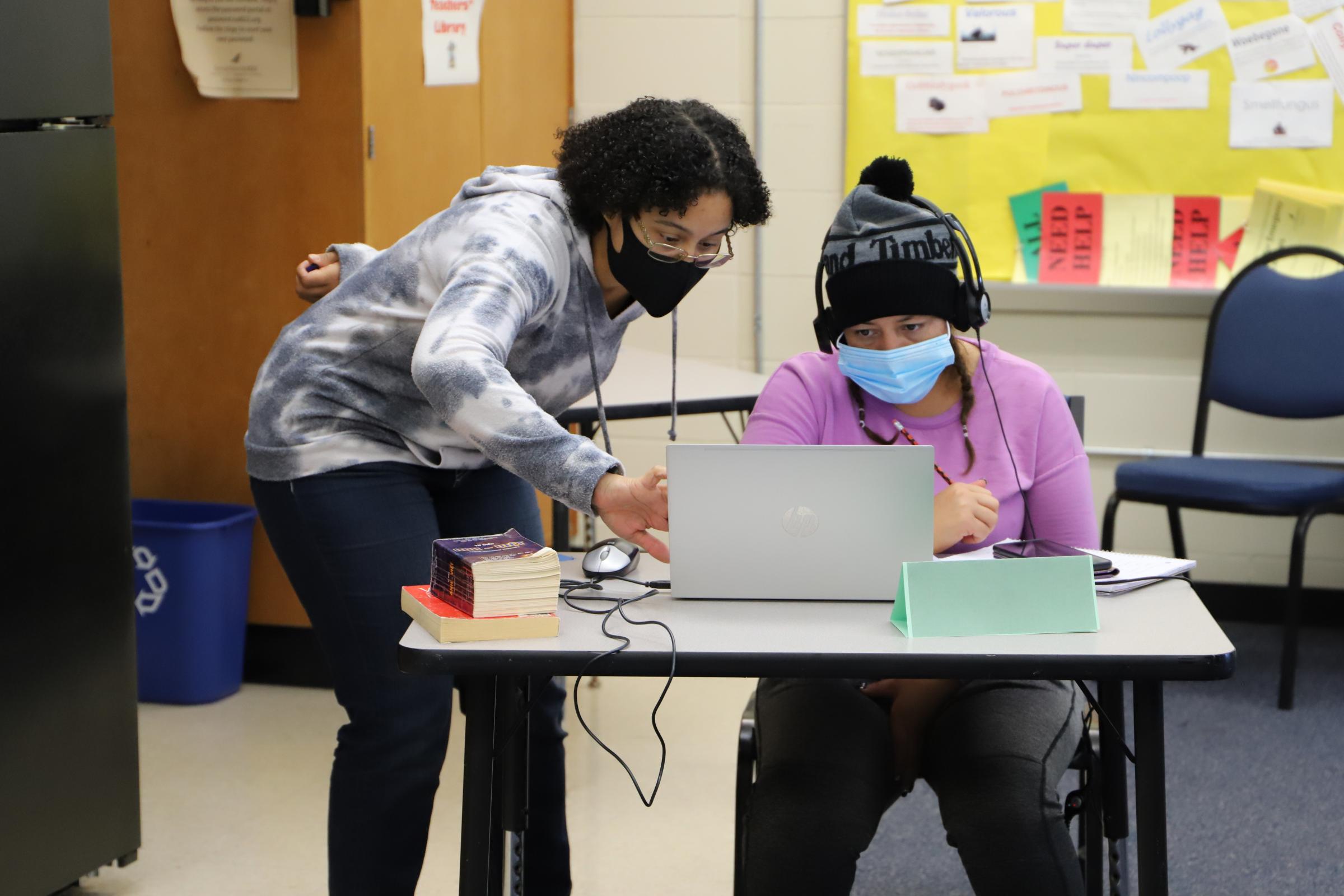 Harmony Learning Center
Partner Agency: Harmony Learning Center (Metro East Career Pathways)
Location(s): 1961 County Rd C E, Maplewood, MN 55109
Site Supervisor: Carly Voshell, IT Career Pathways Coordinator/Lead Teacher
CTEP Program Description
The AmeriCorps Community Technology Empowerment Project (CTEP) bridges the "digital divide" for new immigrants and low-income communities in the Minneapolis and St. Paul area. Join AmeriCorps CTEP and help make the information age accessible to all. CTEP is a project of Saint Paul Neighborhood Network (SPNN).
Site History and Mission
Harmony Learning Center serves residents of Maplewood and surrounding communities with English language, GED and basic skills classes. Harmony's Information Technology (IT) Career Pathway program focuses on skills aligned to the Northstar Digital Literacy curriculum and Microsoft Office Specialist certification exam. Technology skills have become essential to students as they navigate school, work and other areas in an increasingly online world. For that reason, digital literacy is integrated into all education levels at Harmony and the CTEP position has the opportunity to work with a wide range of learners.
Preferred Site Schedule for Member
Work hours generally occur between 8am and 5pm, Monday through Friday.
In addition, members attend professional development days with their fellow CTEP members to enhance service-readiness skills, personal attributes at the service site, and citizenship skills. These Corps days take place twice a month on the 1st and 3rd Fridays from 9 AM to 4 PM, and these trainings are mandatory. Members also attend statewide AmeriCorps events, such as the Martin Luther King Day celebration, and/or serve on the statewide InterCorps Council.
Specific Site Responsibilities
The role of the CTEP members will be to support the learning and development of participants along their digital literacy journey from the foundational skills of computer and internet basics to Microsoft Office productivity skills. Duties include one on one, small group and large group instruction, virtual and in-person support, proctoring assessments, tracking student progress, and mastering course materials to better support students.
CTEP activities may also include development of marketing materials, orientation and technical assistance for students, student services and support, curriculum development and delivery and program evaluation. The CTEP member will also provide capacity building assistance to Harmony staff to enhance overall programming and further integrate digital literacy into all education levels.
Site Environment
Harmony Learning Center is a fairly large school with around 700 students per year, in person and remote students combined. There are 8 shared classroom spaces, and a mobile computer lab with student laptops. The CTEP will have a desk in a classroom, but will also visit other rooms to hold computer class.
Harmony Learning Center is a school that has new students starting class each week. Individuals who will be most successful in the CTEP role will need to be open to collaboration, adaptable, enjoy working with individuals from diverse backgrounds, and have a willingness to learn about evolve during their year of service.
How to Apply
Apply online at http://my.americorps.gov/ and click on "Apply to Serve". Be sure to search for the "Community Technology Empowerment Project" or "CTEP" when asked to indicate what program you would like to send your application to. Contact: ctepmn@spnn.org, 651.298.8919 for more information about CTEP Member requirements.
CTEP AmeriCorps values an equitable work environment and strongly encourages Black, Indigenous and People of Color, speakers of many languages, disabled individuals, LGBTQIA+ identified, and people from other underrepresented communities to apply.
Reasonable accommodations will be made upon request.