CTEP AmeriCorps Civic Engagement Presentation: English Learner Digital Essential Skills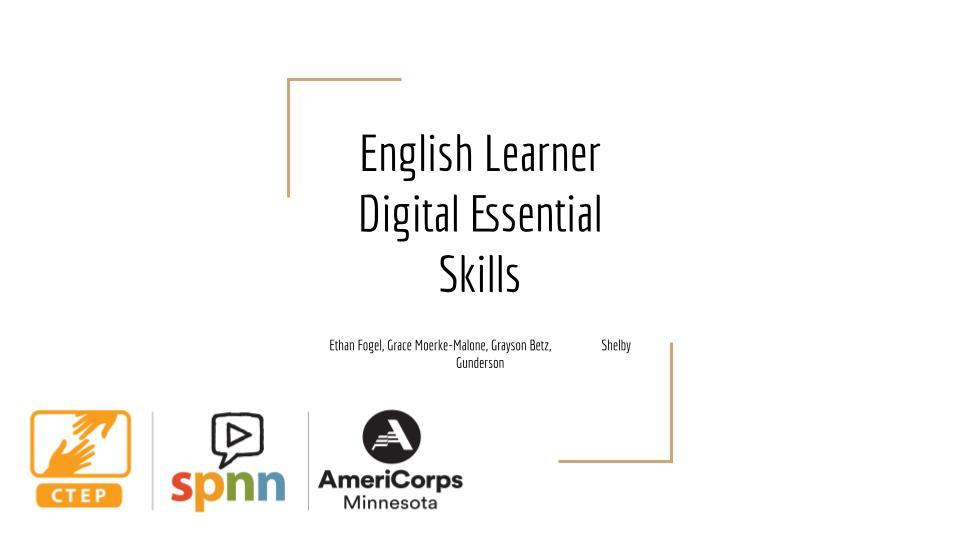 Each year our 35 CTEP AmeriCorps members choose community action projects that make a contribution to bridging the digital divide. The CTEP civic engagement projects are often cited by CTEP AmeriCorps members, staff, supervisors, and community supporters as one of the most unique and energizing parts of the program.
Our Civic Engagement Project, the ELDES (English Learner Digital Essential Skills) curriculum, is an alternate Digital Literacy (DL) course curriculum specifically designed for individuals who are English Language Learners (ELL) at the mid-intermediate level. While Northstar can be a fantastic tool for native English speakers, it is evident that those who are not fluent in English tend to struggle with the material due to the difficulty of the vocabulary used. Northstar emphasizes a digital literacy curriculum designed for advanced English learners or above. During our service at our sites, we saw a major discrepancy in DL curriculum resources and accessibility for those not at a high ELL level. Our ELDES curriculum has been specifically designed to be the beginning of breaching the gap. It is meant to be completed before NorthStar assessments, not as a substitute for the NorthStar's Computer and Internet Basics. While the ELDES curriculum covers many similar standards, our main goal is for students to be able to learn how to use a computer with absolutely no assumed prior knowledge. Therefore, we've chosen to focus on developing more fundamental skills by creating our own set of standards.
ELDES is broken up into seven distinct units: Introduction to Computer Vocabulary, The Desktop, Mouse Skills, The Keyboard, Interacting with the Computer, Web Browsers, and Internet Navigation & Safety. Each unit consists of two to four lessons that focus on the major unit topics. These lessons contain lesson plans, materials, handouts, and achievable lesson objectives. We include assessments after each unit to help measure students' progress through the curriculum.
After we complete the ELDES curriculum, we will be presenting our work at multiple conferences while working to create partnerships with Adult Basic Education (ABE) institutions to test our curriculum in the classroom and provide constructive feedback on how to better improve our materials. We will take any received feedback and add it to our handoff document so future CTEPs can continue this important work if they choose. Through discussions in our group and a former CTEP who worked on a project that was similar in capacity, we decided it would be feasible to create a handoff doc and support the next members who take on this project.
Group Members: Ethan Fogel, Grace Moerke-Malone, Grayson Betz, Shelby Gunderson